CULTURAL BURNING FOR RED-TAIL BLACK COCKATOOS
The south-eastern red-tailed black cockatoo is highly sensitive to fire, and managing bushfire risk while not compromising the species habitat is very challenging. The cool burning methods employed by Traditional Owners in the region are providing important information on how best to manage these risks.

– Antony Ford, Chair, Glenelg Hopkins CMA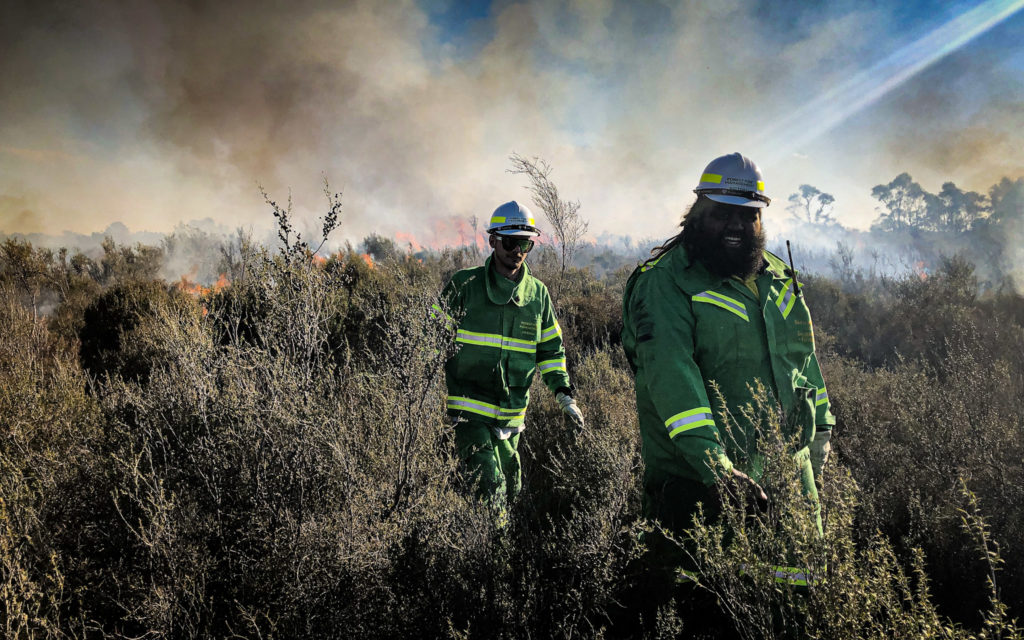 About the Project
The endangered south-eastern red-tailed black cockatoo occurs as a single population in south-west Victoria and south-east South Australia. The species has a highly specialised feeding habit, limited to the fruit of brown and desert stringybark. However, this food resource can be compromised through the practice of fuel-reduction burning in instances where fire scorches the tree canopy, as this can largely inhibit food production for up to a decade.
As an alternative burning method, Gunditj Mirring Traditional Owners Aboriginal Corporation (GMTOAC) is re-introducing cultural burning into red-tailed black cockatoo habitat. In addition to supporting cultural practices, the project aims to protect the species' food resources, as well as reduce bushfire risk using cool burning techniques.
The project's first burn occurred on July 17, 2020 GMTOAC representatives, alongside DELWP Forest Fire crew members and Glenelg Hopkins CMA staff, burnt 16 ha of heathland and stringybark woodland. The cool burning resulted in a low-intensity and patchy burn that prevented fire from scorching the stringybark trees canopy.
Glenelg Hopkins CMA staff re-visited the site in October 2020 to undertake the first post-burn vegetation survey. Data revealed that while the burn was patchy, it was also highly species-specific in the plants that were affected. These results suggest that the Traditional Owners cool burning methods allow fire to select and reduce fuel of the more flammable species, while leaving plants with low-flammability largely untouched.
Output 2020/21
2 assessments
20 engagement event participants
1 plan
16 ha fire
Delivery Partners
Gunditj Mirring Traditional Owners Aboriginal Corporation, DELWP Forest Fire and Glenelg Hopkins CMA.
More information
Read more about this project in the full Actions & Achievements Report 2020-21
To find out more about Glenelg Hopkins CMA , visit their website
Investors