BOOSTING RECREATIONAL WATER USE
This project will enhance the recreation use of the Barwon through Geelong through improved facilities, improved access, and increased promotion of the facilities now available to the community.

– Alice Knight, Chair, Corangamite CMA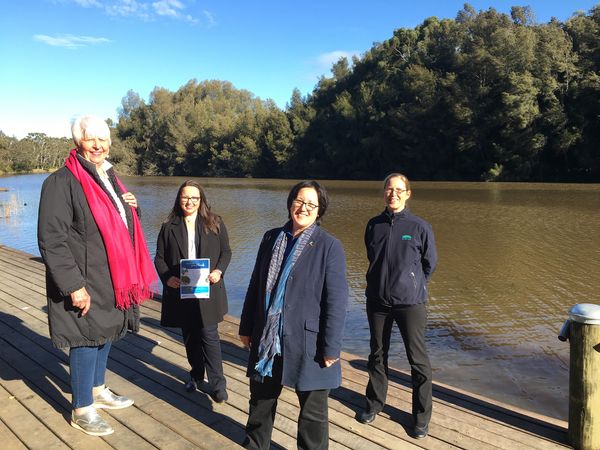 About the Project
The Corangamite CMA has overseen the installation of a new Wal Whiteside Multi-Use Platform on the Barwon River in South Geelong, improving access, and allowing for increased passive recreation, fishing, canoe launching motorboat berthing and passive recreation.
The Corangamite CMA is the waterway manager for the Barwon River through Geelong, a 20km stretch of the waterway from the Queens Park Bridge at the upstream end, through to the lower breakwater (just upstream of Lake Connewarre). This responsibility includes maintaining and enhancing the riverbanks and various adjacent reserves and providing associated services and facilities.
This project has created new platforms for improved access to the Barwon River that cater to various levels of abilities and various users. The new multi-use platforms are installed close to existing assets and structures to maximise the benefits
This new investment will enhance the recreational use of the Barwon through Geelong for the local Geelong community and those who visit for years to come.
Output 2020/21
Marnock Vale Launching Facilities (aka Canoe landing area)
Rowing Precinct Landing extension
Wal Whiteside Platform
Yollinko Wetland Walk and River Platform
Delivery Partners
Department of Environment, Land, Water and Planning (DELWP)
Victorian Fisheries Authority (VFA)
City of Greater Geelong.
More information
Read more about this project in the full Actions and Achievements Report 2020-21
To find out more about Corangamite CMA , visit their website.
Investors